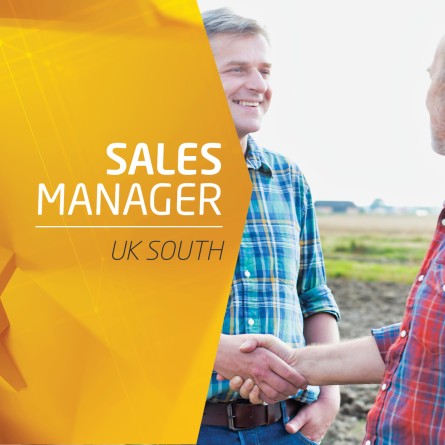 Regional Sales Manager - South
UK South
About the role:
In this exciting role based in the south of the UK, you will set, plan, and execute the agreed regional sales plan for the southern territory of the UK; driving successful achievement of the plan through our dealer network.
As a commercially savvy professional you will take accountability for this key sales territory; with a focus on building the sales pipeline and seizing commercial opportunities across traditional core and new, emerging markets in this part of the world.
To be successful you will:
Be highly commercial with experienced in business sales cycle planning
Have strong understanding, passion, and experience in dairy milking, and agriculture sector; knowledge and interest in Agri-tech is highly advantageous.
Have demonstrated sales experience in a high performing sale or a business development role including 'cold calling' (minimum 5 years within comparable/relevant industry)
Preferably have a relevant business qualification with a focus on sales and/or marketing
Have proven success in a

total solution

selling
Develop, manage, and sustain excellent relationships (both internal and external) to ensure delivery to our dealers and customers
Be responsible for the overall P&L performance of your region
Have advanced communication skills
Have strong planning and negotiating skills
Participate and support project management of project installations and upgrades
Be well organised and able to deliver on key milestones
Significant travel; including some overnight travel is re
Be located in the South of the UK, (home based), with easy access to key motorway networks
Benefits of joining the team:
Great sector
High degree of independence and autonomy
Well-known and respected brand
Established markets and dealer network together with good scope for expansion and new opportunities
Competitive sales/commission package
Company vehicle and standard tools of trade
Strong back up/warranty support/manuals for our products
Recognition of Long Service
About the company:
Waikato Milking Systems is one of the world's leading designers and manufacturers of dairy systems and technology. Our focus is on high performing milking solutions and dairy technology including rotary milking systems, herringbone and parallel systems, dairy automation, milk yield recording, cow identification, animal heat and health systems, sorting and animal management, dairy management systems and milk cooling. Waikato Milking Systems global headquarters and engineering divisions are located in Hamilton, NZ with offices and Warehouses in Australia, USA, UK, Ireland, and China, with agents and customers in every dairying nation in the world.
How to apply:
For a confidential conversation contact Denise Thomas (Head of People & Capability) NZ, denise.thomas@waikatomilking.com