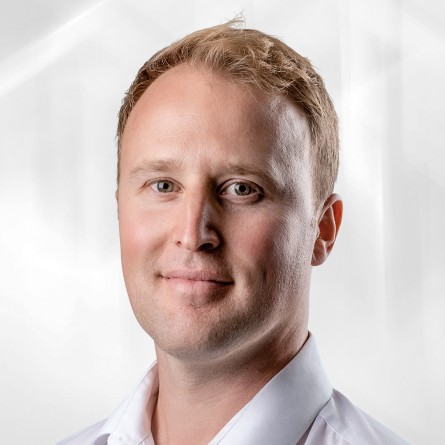 Head of Product Development & Systems Engineering
Matt had worked at the Gallagher Group for nearly 12 years where he had a number of product and customer-facing roles. The most recent was as the National Business Development Manager for a new cloud-based SME security product. He had also worked as Product Manager for Gallagher Security's software portfolio, leading market research and product vision for several development teams.
Matt grew up in Hawke's Bay in a family involved in sheep and beef farming. He studied industrial design at university and his final year project was a rotor-moulded sheep crate, which won awards and caught the eye of Gallagher Animal Management. It led to his career with Gallagher, where he worked in the mechanical engineering team as an Industrial Designer on electric fencing products. His interest in eliciting customer requirements led to subsequent roles in market research in Hamilton and in the UK.

Matt joined Waikato Milking Systems in 2020 and is responsible for leading the product development team and the development process. His role is to help drive the product development roadmap - ensuring our product satisfies customer requirements and maintains the quality the company is known for. He said the team is very passionate about the industry and the new technologies available to make life easier for farmers and dealers.

Matt enjoys working with farmers and enjoys their can-do attitude. It's a character that is reflected throughout Waikato Milking Systems too, which makes for a great culture where people are passionate about what they do.

Matt said there are significant changes in the industry worldwide which has elevated the demand for innovative dairy products. He said Waikato Milking Systems has a very full roadmap of innovative products in development to mitigate the challenges our farmers face.