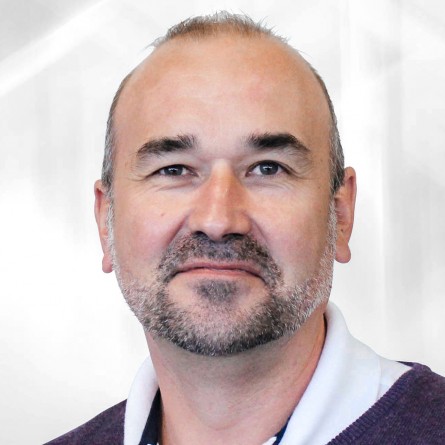 Sales Manager - UK South
Simon joined the Waikato Milking Systems sales team in 2019 with a wealth of experience and knowledge in the agriculture industry in the UK. After leaving school, he completed a Diploma in Agricultural Engineering which kicked off his career in the dairy industry. He worked his way up from being a technician, to managing large dealerships and taking charge of his own franchise.
Simon gained valuable experience working as a sales manager for two other global manufacturers before joining our team as a sales manager for the south of the UK.

Simon lives in the South West of the UK where dairy farming is a major contributor to its rural economy.It is also home to a number of nationally-recognised agricultural trade shows, providing the company with opportunities to showcase its technology, products and services.

Simon makes a point of finding out about the challenges farmers face and then showing them how our company can provide the correct solutions.

He understands many farmers are looking to upscale their milking operations in the UK. Customers are investigating the benefits of converting to rotary parlours while others are looking to upgrade their in-line systems.

Simon also promotes our milking automation and herd management technology as farmers look to increase their herd sizes. The goal is to help farmers find a total solution for their unique dairy operation. Working with an extensive dealer network in the south of the UK is key to meeting customer expectations.

Simon works with dealers, Gareth Howells Livestock and Dairy Technology; Premier Dairy Services; Wooldridge Dairy Services; R. Capper Ltd; Wessex Farm Installations; Churchills Dairy and Parlour Services; Dairycentre and Milkflo Dairy Systems.