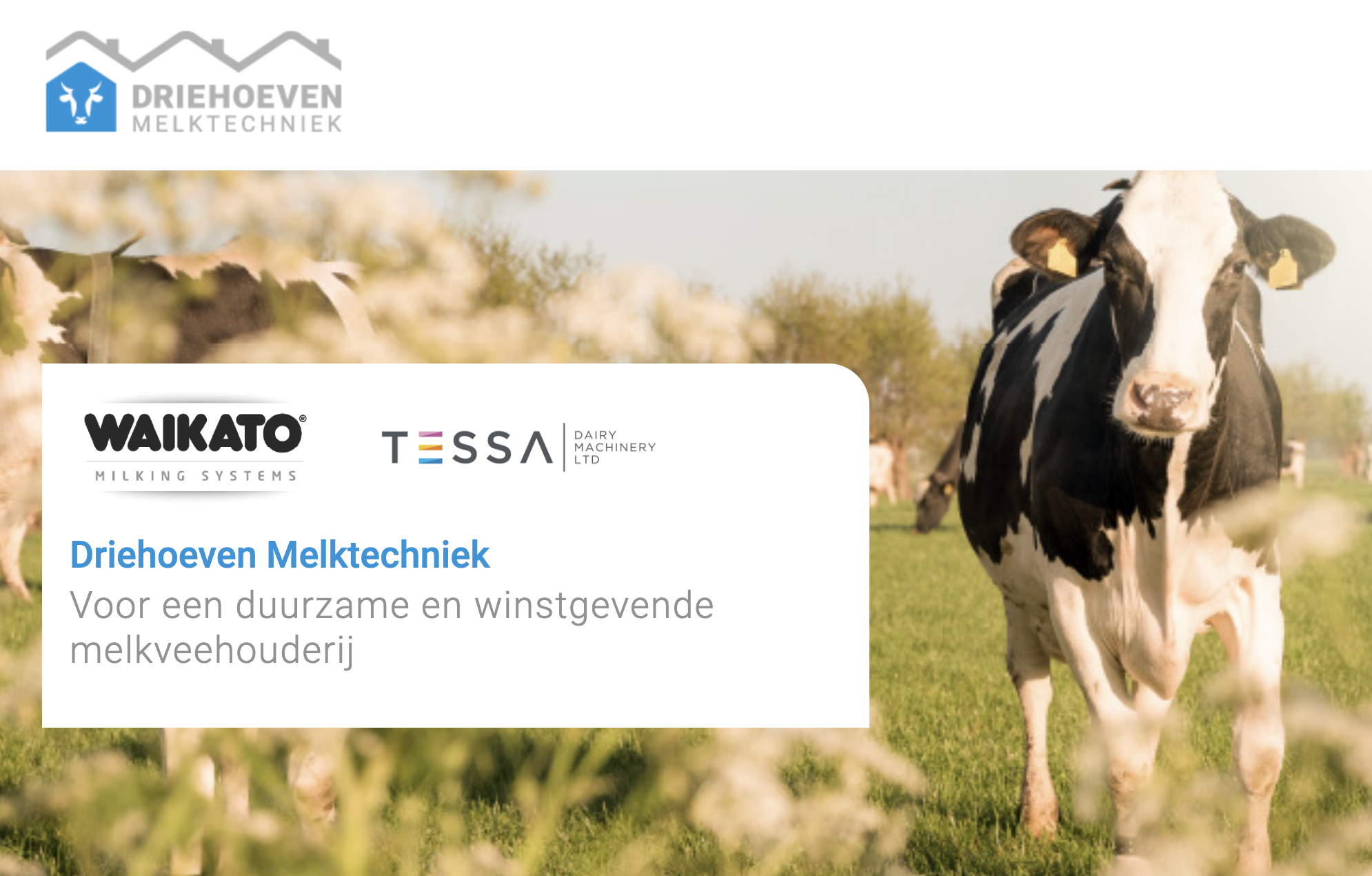 Article Details
03 February, 2023


Waikato Milking Systems is now also available to dairy farmers in the Netherlands through distributor Driehoeven Melktechniek. The New Zealand company is one of the largest manufacturers of rotary milking systems and a leader in smart technologies for milking cows, goats and sheep.
Major challenges in dairy farming
"This partnership is a great convergence of our mutual business values," says Jamie Mikkelson, Executive Chairman of Waikato. "Like us, Driehoeven Melktechniek is focused on providing total solutions for sustainable and profitable dairy farming. We share the same philosophy: first listen to dairy farmers so we understand their requirements and only then do we develop customised solutions to maximise a farm's performance, productivity and profitability."
Pieter Copal, managing director of Driehoeven Melktechniek adds: "The challenges facing dairy farmers in the Netherlands are great. It is our strength to offer solutions for these. To do so, we work with global and local suppliers where the price/quality is right and the service is high. We are therefore pleased with Waikato's exclusive partnership for the Benelux. Waikato has distinctive products and invests a lot in new technologies that help farmers in their operations."
Waikato Milking Systems
Designing and manufacturing a wide range of milking parlours, milking automation, milk management, milk cooling and milk hygiene, that is now available to the Netherlands, allows Driehoeven Melktechniek to offers dairy farmers full system solutions, advice, 24/7 service, spare parts and maintenance.
Waikato Milking Systems was founded more than 50 years ago in New Zealand and now has an international reputation for reliability, product innovation, animal welfare, food production and environmental sustainability. "We are constantly innovating and refining our smart milking technology so that farmers around the world can increase the value of their dairy cattle," says Jamie. "We are proud to partner with Driehoeven Melktechniek to help farmers in the Netherlands farm more productively, cost-efficiently and profitably."
Driehoeven Melktechniek
Driehoeven Melktechniek has more than 100 years of experience in milking technology. In fact, 1911 Boeke Heesters in Haaren was founded; this company merged into Driehoeven Melktechniek in 1996. We focus on milk extraction and related products such as barn equipment, cooling technology and service products for the dairy farmer. In 2022, Driehoeven expanded its field of activity with milk processing equipment from Tessa Dairy Machinery. Thus, from milk extraction to processing, cow and goat farmers are assured of one professional party that thinks with them, has solutions, maintains machines and parts and offers 24/7 service.