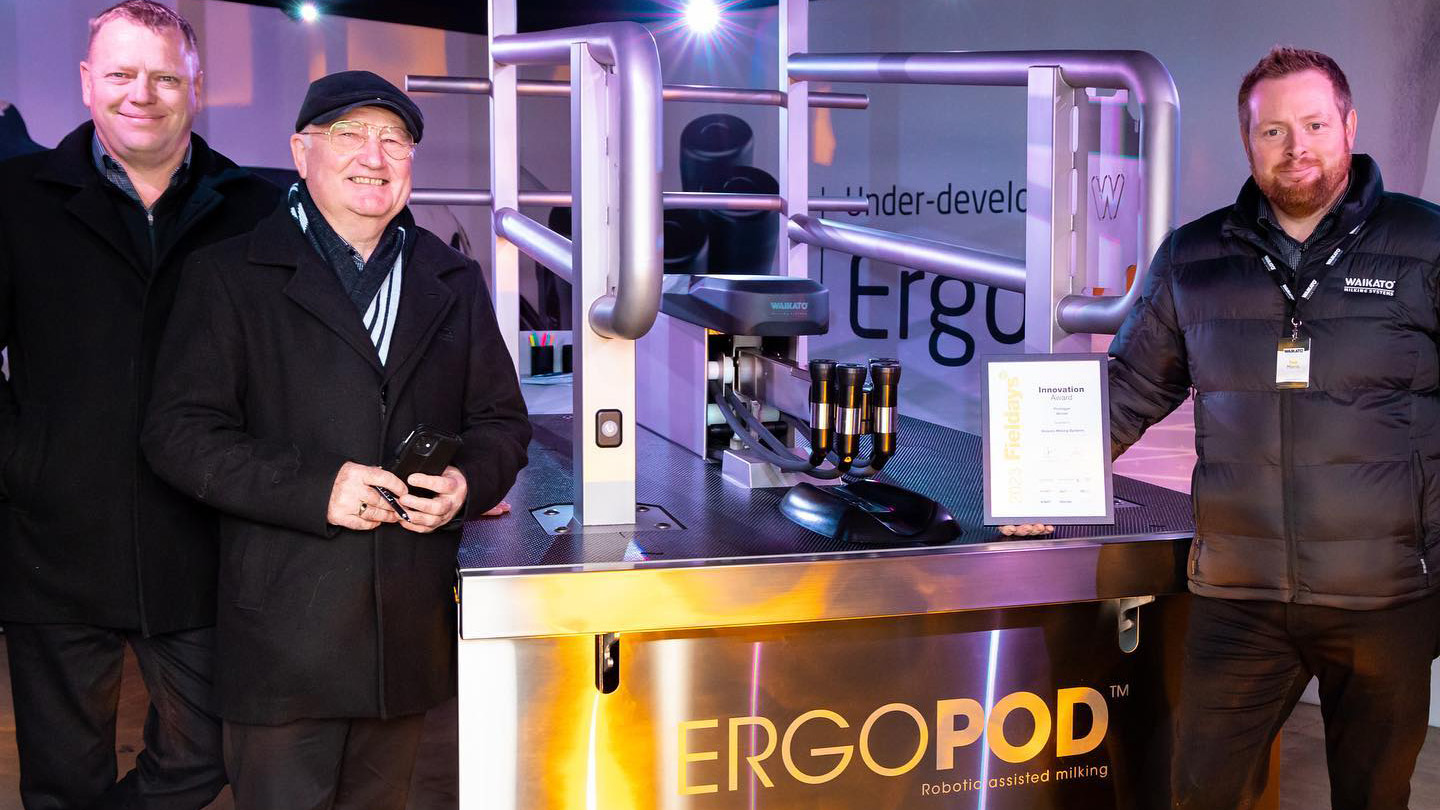 Article Details
26 July, 2023

Dairy News

NZ
This article first appeared in Dairy News
Already well known for innovative solutions in the dairy shed, Waikato Milking Systems gave us a glimpse into the future at the recent National Fieldays.
Their prototype Ergo- POD™ system is said to offer robotics-assisted milking that, unlike current robotic solutions, still retains a human presence in the shed. Walking away with the coveted Prototype prize at the Fieldays Innovation Awards, the system is part of a 4-year research and development endeavour.
Aimed at both local and international markets, ErgoPOD™ is said to deliver a step change in milking that will revolutionise the way teat cups are presented and managed in the dairy shed. Developed around the concepts of effective root-cause analysis, new ideas, design and simplification, the system is said to deliver just the right amount of automation while reducing injury risks associated with teat cup placement and cows entering and leaving a milking platform.
The system also provides opportunities for precise measurement and control of milk quality during harvesting, and will speed up the exit of a milked cow leaving a rotary platform.
The result will be a faster, safer process and that could be used by staff from a wider labour pool.
Receiving the Fieldays Innovation Award, WMS executive chairman Jamie Mikkelson noted that when they started the project around four years ago, "we had a crazy idea that we were going to be the most admired dairy company globally for milking efficiency, if a single operator could milk up to a thousand cows an hour".
"That would certainly be a game changer. Ergo- POD™ means that we are well on the track to achieve that."
Final development, including rigorous onfarm testing, will be completed over the next 18-months, ultimately leading to a game changing market entry.
While the company is still a little guarded about specific product details, Dairy News understands that all the elements required to carry out the milking operation are housed in a pod (or POD) that sits on the floor of the milking bail. As the animal enters the bail, the teat cups emerge from the POD, carried in a holster, from where the operator attaches them to the teats.
Pulsation commences when the teat cups are grabbed, then once milking is complete, cups are automatically removed and returned to the holster, where they are irradiated with UV light and sanitised for the next animal.
Removing currentlyused components like the milking claw, automatic cup removers and bail-mounted washing jetters creates a simplistic design, yet a wide range of complementary automation takes care of animal identification, data collection and drafting of animals that can't be milked or need attention.
While cows will undoubtedly need training to adapt to the new format, the revolutionary concept is already attracting expressions of interest from overseas dairy producers, looking to learn more about the concept. Watch this space.
Dairy News NZ