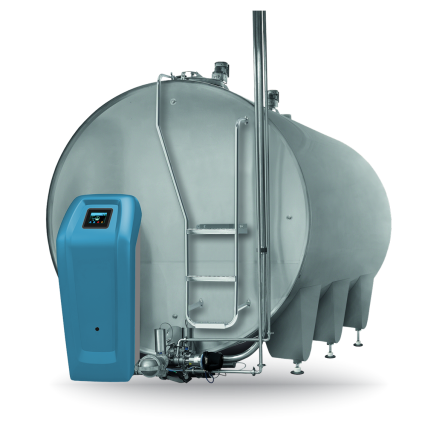 The fast, flexible and efficient way to cool your milk
The Waikato Milking Systems Horizontal Tank cools milk fast and efficiently to maintain the quality of milk without the need for an external chiller system - other than pre-cooling with water.
The Horizontal Tank uses direct expansion cooling with a large cooling evaporator covering approximately 30% of the tank holding area, and includes wash programs and equipment to ensure the highest levels of tank hygiene. The Horizontal Tank provides flexibility with cooling and volume options, and can be containerised with sizes up to 30,000 litres for cost-effective transport costs and logistical efficiency. The tank controller allows for 10 cooling and washing programmes and a modular chiller can be added to the system, with information shared through the control unit. The Horizontal Tank can be used as a bulkhead system, with no alcove required.
Advantages
The Waikato Milking Systems Horizontal Silo provides fast, flexible and efficient milk cooling.
Patented technology
Patented cooling and cleaning technology, and remote access to the working tank by engineers.
Designed for accuracy
100% accurate volume detection with digital dipstick, and level detection for correct wash water volume and chemicals.
Built to perform
Constructed with 2mm stainless steel inner and outer cladding, with a heavy duty independent chassis.
Need advice?
Find your regional sales manager
Need a quote or support?
Find your Dealer