More throughput and less time in the parlour
John and Debbie Moorby are looking forward to seeing the benefits of their new 80-bail Centrus Composite Rotary platform on their farming property near Te Awamutu.
The Waikato Milking Systems platform is at the heart of their brand-new dairy parlour, which began construction in November 2018 and was commissioned in July 2019.
The 80-bail Centrus Composite Rotary will ease the pressure when it comes to milking John and Debbie's 1150 cows across their 350ha dairy property, one of the biggest operations of its kind in the Waipa district.
"For the size of the herd, we were always going to need a big rotary," John said. "We'll get more throughput but also be able to cut back on time in the parlour."
He estimates it'll take four people to manage the herd through the Centrus, compared to about six who are needed to milk in the old system, across two Herringbone cow sheds.
"At this stage I reckon we'll have two people putting on cups, one person keeping an eye on things and one person getting the herds in."
The Waikato Milking Systems technology fitted to the Centrus is also likely to make milking time easier for the Moorbys.
It includes SmartD-TECT pulsators, which simulate pre-milking so cows let their milk down faster. The device also provides early warning of potential udder health problems, reducing treatment time and cost.
The platform also has BailGate Cow Restraints to manage cows on the platform. The straps can be lowered or raised automatically when the cup removers are activated.
It means there does not need to be a person working at cups off, as the cows are released from the platform automatically and begin their trek back to the paddock.
John admitted using the Centrus Rotary for the first time would be a bit of a learning curve for the staff and the animals. But he's done his homework, visited other farms using rotary platforms and taken some advice.
"Before we got too busy with calving, we put one herd through the rotary for a few days, teaching them how to use it. And then the others will follow. We spoke to a few people who have got rotary platforms and that's what some suggested." The cows were due to complete their first lap on the rotary in mid-July.
John and Debbie sharemilked for 15 years, 50/50. Their herd increased to about 1000 cows over a couple of different properties. "Then we sold that and bought a 130ha property in 2001 just outside of Te Awamutu to start out on our own. Over the years the size of the property and our herd have grown."
John takes care of milking and managing the staff and herd while Debbie manages the business office, calf rearing and bit of relief milking when needed.
As part of their research into designing their new parlour, the couple visited properties in New Zealand's South Island to take a look at some of the bigger rotary sheds.
"Waikato Milking Systems has proven products, and their dealer Qubik is based nearby to us in Te Awamutu, so if something goes wrong they're not far away. That's really important to us. "Ken Osborne is the managing director there at Qubik, a friend for many years so that was no question who we were going to go with. It's all about relationships, I didn't even get a quote from anyone else."
The Moorbys were also keen to see how they could make their staff comfortable at work. Their new parlour features a separate staff room and off that, a viewing platform overlooking the Centrus Rotary platform.
"We wanted a comfortable staff room where we could all meet, where we could interview new staff if needed, or just come and have a cup of coffee."
Looking to the future, John said the new dairy plant would allow him to increase the herd size if needed. "But also at 53, I don't want to be milking fulltime for much longer. With the technology we've got on the platform, it'll help me keep an eye on how well things are going."

Specifications:
John And Debbie Moorby
Centrus Composite Rotary Milking System
80 Bail
1150 Cows
Commissioned 2019
ECR Plus
SmartD-TECT
BailGates
SmartSPRAY
Industrial Double Bank Plate Cooler
Listen to the Farmer talk...
Our customers John and Debbie Moorby of Waikato, New Zealand, explain why they decided on a Waikato Milking Systems 80 bail Centrus Composite Rotary platform, what the process involves and their overall experience of installing and then putting the system to use.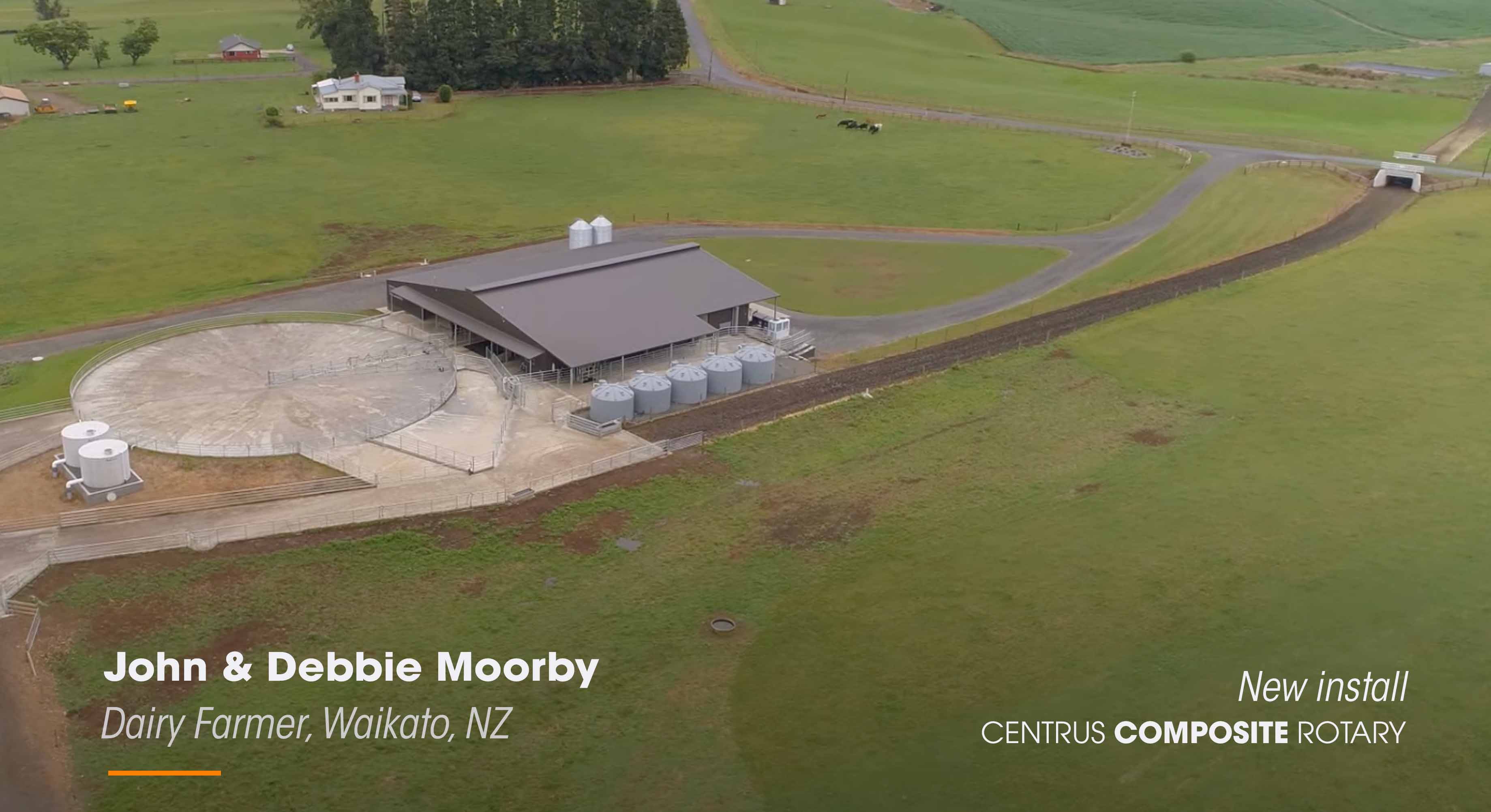 Watch the process of installing a new Centrus Composite Rotary.
Watch Video
Need advice?
Find your regional sales manager
Need a quote or support?
Find your Dealer