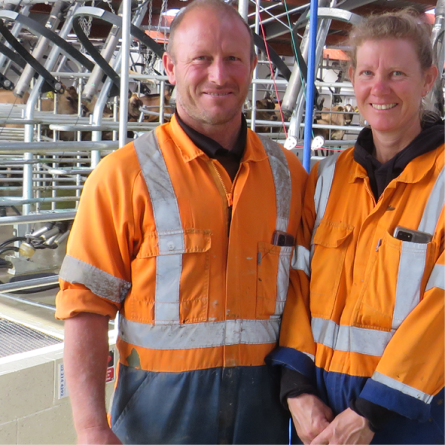 CRITICAL COMPONENT FOR ACCURATE & EFFECTIVE MILKING
Reducing their milking time and labour shortage pressures
In 2022, Jason and Leanne Erb decided it was time to redevelop the milking plant on their Jersey Girl dairy farm near Winton in Southland, New Zealand.
With 800 cows on their 365 hectare self contained farm, their old rotary had no automation technology aside from the Waikato Milking Systems ECR Plus automatic cup removers they installed when they moved back to the family farm a few years ago.
The automatic cup removers have been a critical component for accurate and effective milking, and "to eliminate one job at milking time," says Leanne.
When the couple decided to upgrade their 50-bail rotary built in 1998, they chose a 70-bail Orbit Concrete Rotary Milking System and were able to reuse the existing ECR automatic cup removers - and add 20 more.
All of the cup removers on their new Orbit rotary system are now controlled by an ECR Plus system to maximise their milking automation and efficiency.
The ECR Plus system provides the operator with control over deciding on the best time to activate the cup removers to prevent the cows from being over-milked, and to protect their teat health.
"We've been experimenting a bit and have altered the settings to suit our cows. We have Jerseys and they milk out a bit quicker than your big Friesians," Leanne says.
"So we have adjusted the timing to suit our own preferences and it's working well." Leanne's father-in-law was also looking to install cup removers on another milking shed nearby, "and we convinced him to use Waikato cup removers instead. We just think it's a stand-out product. We love our cup removers, it saves us time and definitely improves our efficiency."
While "cup removers were at the top of the list when it came to planning the new rotary", the ECR Plus system also allowed the couple to add other automation functions to suit their farm's individual requirements.
To modernise their milking plant further Jason and Leanne decided to include SmartD-TECT to automate their pre-milking stimulation and udder health monitoring, and SmartSPRAY for automated teat spraying.
They also installed SmartWASH, a programmable automated wash system for their milking machine. The SmartD-TECT system performs a health analysis of each quarter of the udder - with the process creating a natural let-down response and automating pre-milking stimulation without operator intervention.
"The SmartD-TECT system will hopefully eliminate the need to manually strip the cows at milking time to look for signs of mastitis," says Leanne.
In the past their farm had never had good results using teat spray, but SmartSPRAY has proven to be a worthwhile new addition. "I think the difference is the consistency of having the cows sprayed after the cups are removed, instead of waiting to spray them when they've gone around to the end of the platform. Somatic cell counts have gone down now and the teats are in good condition," says Leanne.
Installing the SmartWASH system was also a "new thing" for their farm, but "it didn't take staff long to learn how to operate it, and it eliminated another job that was previously done manually."
The Jersey Girl dairy farm's new Orbit Rotary Milking System and the suite of milking automation options they have installed has decreased the milking time in their shed, and alleviated the pressure with the current labour shortages.
The family are strong advocates for Waikato Milking Systems equipment and technology, and have enjoyed a long-time relationship with their Southland dealer Progressive Rural Trade Services who installed their new Orbit Rotary and automation systems.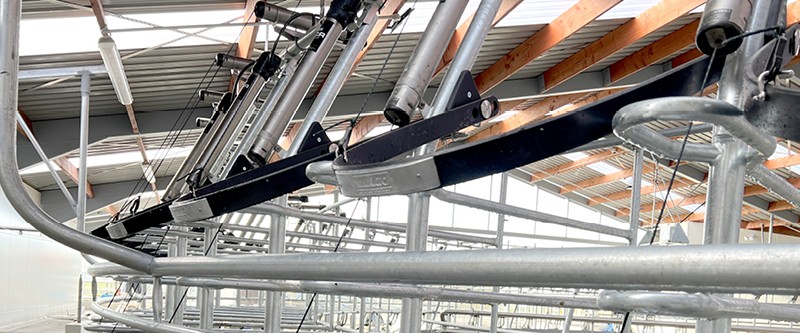 Specifications
ECR Plus

SmartD-TECT

SmartSPRAY

SmartWASH

Waikato 320 Standard Cluster
Need Advice
FIND YOUR REGIONAL SALES MANAGER
Need a quote or support?
Find your dealer